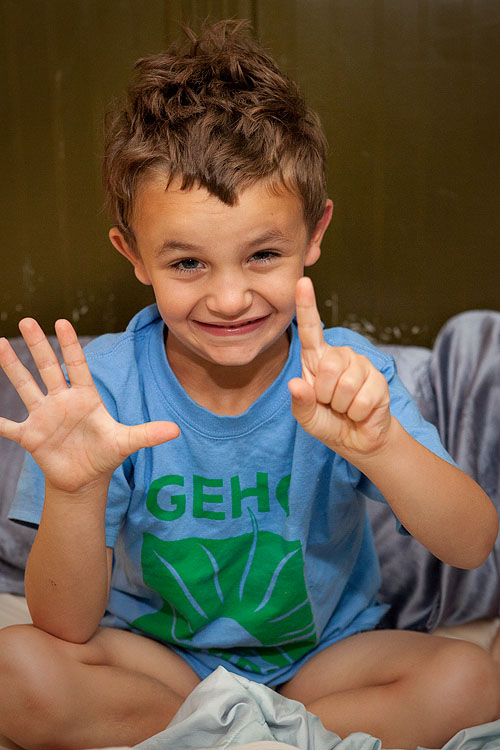 Oh, it's been a big day around here. Today was Max's sixth birthday. Mama and I woke our little buddy by singing "Happy Birthday" to him. He was so excited and asked us to sing to him a second time. Mama pinned a button on the shirt he wore to school today to let everyone know it's Max's birthday.
Mama's colleague Caroline surprised Max and her this morning at their car in the school's parking lot with a very sweet birthday surprise for Max. In class Max got to choose a special lollipop because it's his birthday, and he and others were wished happy birthdays on Ivy Creek's closed-circuit television system all day.
I attended my first room parent meeting this morning. I found it mildly overwhelming. There's a lot of stuff to remember. I don't believe I could handle it without Mama's help.
I joined Max at school for lunch today and Mama passed out cupcakes to his classmates. I'm thankful Mama joined Max and me at lunch because she made our rambunctious and hyper bundle of joy behave himself. He was running around and socializing with everyone he knew, which is a lot of people, and there were a lot of people stopping by to wish him a happy birthday. He licked the icing off of two cupcakes, ate part of his sandwich, and then it was time for him and his classmates to return to class.
When Mama and Max came home Max opened one of his presents. He chose the biggest one, which was a package containing four Thomas & Friends character engines. And then the waiting for the little party we had for him this evening began. "How much longer?," he asked repeatedly.
Neighbors Stephen and Dale joined Granny and us with Mimi and Grandpa in their shop for a small party. We're having his main party on Saturday at The Ice Forum. Mama let Max open his presents before eating and he got a bunch of them. He got more Thomas & Friends engines, a big Thomas set, a couple of smaller Thomas sets, a Hot Wheels set, a few Hot Wheels cars, and a lot of cash. Granny gave the boy some underwear, which he told Granny he didn't like, but he said he didn't want to hurt her feelings. Ha! The movie The Polar Express played on the television while we partied.
When we all got home Max wanted to build a Minecraft LEGO set, but we wouldn't let him because it was getting late. They went upstairs to get their bath and Max watched the Thomas DVD The Birthday Express.
We're late getting to bed, so I'm going to close for now.